New Book Tuesday! Our first interview
Meet Mathangi Subramanian, author of the new novel "A People's History of Heaven"
This is the fifth issue of WRITTEN OUT, a twice-weekly newsletter about women's literature (past and present). You can read the intro issue here. The first *SUBSCRIBER ONLY* post will come out Friday!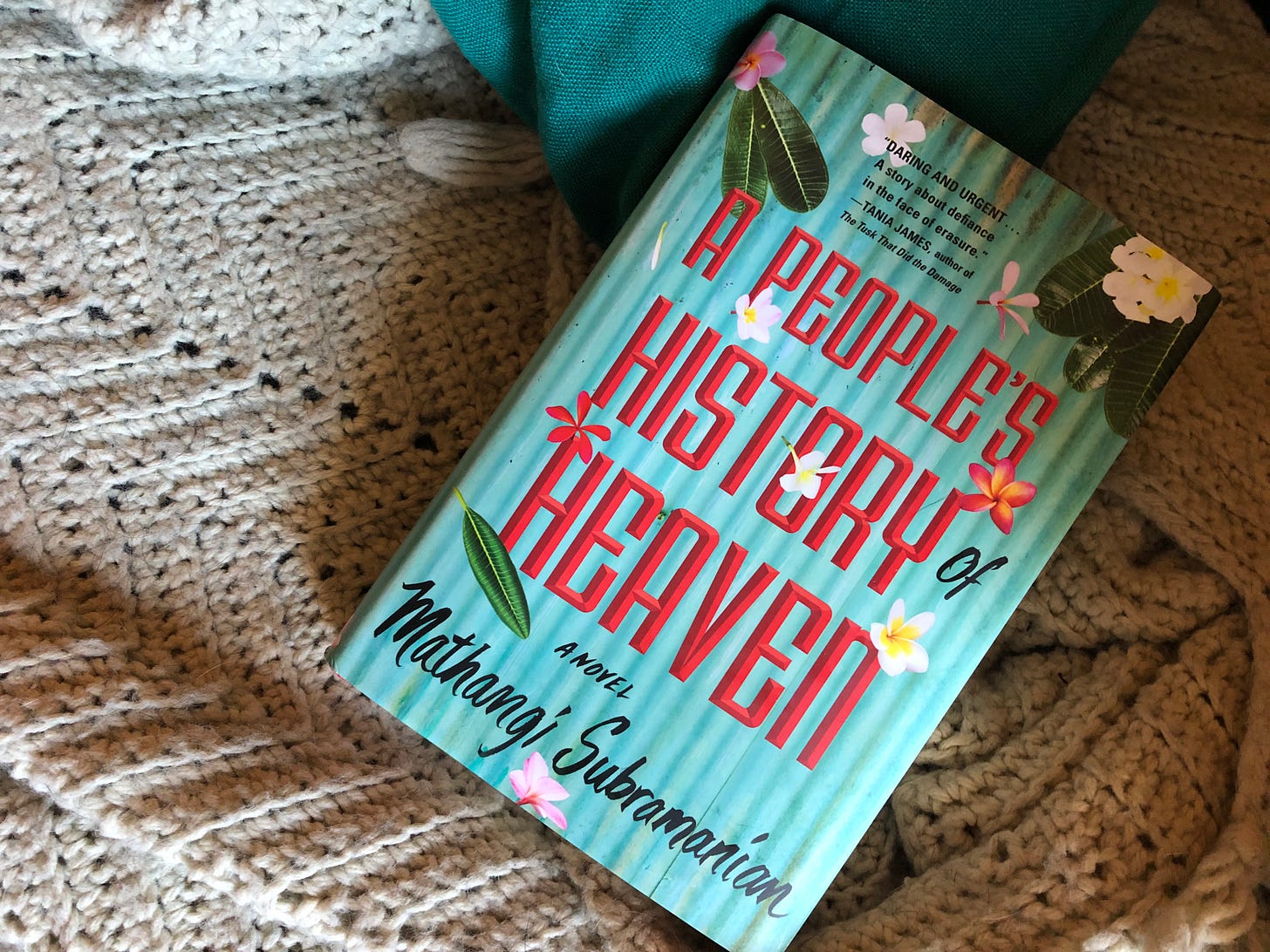 There's no feeling I crave more than the one that can only be found on a Sunday evening: the trance-like, warm, mushy-brained dream state of having started, gotten lost in, and finished a book in a single day. There are so many books I read that I savor, space out over weeks or even months to soak in every word. But there is something in finding a book you can spend a day with akin to stepping off a plane in a new place and knowing that every smell, every curb-cut, every door handle will be slightly different than the ones you are used to, and that in that difference, you will find magic.
I spent this Sunday with Mathangi Subramanian's debut novel, out today, A People's History of Heaven. Subramanian's book tell the story of a community of women that centers on five young girls, each with their own perspective on the world. One paints graffiti, one is blind, one a transgender Christian convert, one the queer daughter of a union worker. Subramanian's story of a slum called Heaven — where these women hold the heart and future of their community in their hands — is vibrant and evocative and touching. You can smell the frangipani flowers gathered for luck, you can hear the crushing crunches of bulldozers smashing a family's generational home to pieces.
I spoke with Subramanian briefly on the phone yesterday to let her tell you in her own words a bit about her new novel, and to recommend some books by women authors we might not have heard of!
Kelsey McKinney: This book is so perfectly rendered, so subtly political. Where did its story start for you?
Mathangi Subramanian: These characters came out of some very intensive ethnographic field work. I have a doctorate in Education and went on a two-year Fulbright Fellowship to India in 2012 to study public early childhood education centers. I was researching and doing field work in all of these pre-schools in Bangalor, and [rural communities].
So I was sitting in these corners of these classrooms and writing down notes. It became clear to me that these were not only early childhood classes. They were also some of the only spaces where low-income women could gather in public.
I met 12 year old girls. I met grandmothers. I met young mothers. I met all kinds of women. The academic work I was doing didn't really capture their voices or their stories. So I started writing [fictional] stories in the voices of these women I was meeting. Each character in this novel was inspired by someone that I met, but the stories are fictional.
KM: That's something that fascinated me the most about this book, which focuses so much on the interiority of women's life. The men of Heaven are all but absent from this story. Is that intentional?
MS: Yes! I read so many books about South Asia in which the women are periphery characters. That's changing now, but men have had most of the space in literature for a long time. Some of [that decision] is just trying to give space to women who look like me and speak like me who I had never seen in literature.
But there's also truth in it. You wouldn't really see men in these centers. The few memories I had of meeting men in the slums were like being accosted by a drunk man once, or just seeing them playing cards in the background. They were often out working during the day. Marriage and relationships mean something different in India, almost regardless of social class. Marriage is something you're expected to do. Husbands are a part of people's lives. They control mobility. But when it comes to daily life, women interact with each other. They don't really interact with men.
KM: This is a story about a people whose history is ignored, and who are desperately trying to carve out space for themselves. How did you think about history and temporality while writing this book?
MS: So the short answer is that is what happens in slums. Nothing is certain. Life is very precarious. Especially in "temporary settlements" that might have been there for 30 or 40 years longer than the buildings they're being demolished to make room for.
I was very interested in who gets a history and who doesn't get a history: The idea that these slums are "temporary" but older than what's being constructed; The idea that poor women don't come from anywhere and just materialize in these slums and aren't part of these greater narratives of climate change, and oppression, and patriarchy.
These are women who have to flee farms because of droughts who have no control over their lives, and you never hear about them. It's hard to get access to them in non-fiction. Even a book that does a good job like Behind the Beautiful Forevers by Katherine Boo talks to more men. It's just easier to get access to men.
I just felt like, in writing these academic articles, I was only telling maybe one quarter of the story. At the end of the day, women are women. These are women like us. They're facing much more extreme circumstances, but they have interior lives, they have desires, and they have agency. That's what I wanted to show. Those are the stories I wanted to tell.
[This interview has been lightly edited for length and clarity]
At the end of our interview, I asked Subramanian for books she has loved in that are have influenced her work or her perception on her own history. She recommends these books for further reading:

A. Revathi's The Truth About Me: A Hijra Life Story

Bama's Karukku

Elif Shafak's Three Daughters of Eve

Marcella Serrano's Ten Women

Natalia Sylvester's Everyone Knows You Go Home

Katherine Boo's Behind The Beautiful Forevers.

Hala Alyan's Salt Houses
On Friday we will have our FIRST SUBSCRIBER ISSUE about how many women have really been best-sellers and how easily we've forgotten or dismissed them. Paid subscriber only issues will begin THIS Friday, March 22! If you aren't paying, see you again next Tuesday!