The book club carving out inclusive literary spaces in the Caribbean
Sharine Taylor interviews the founder of Rebel Women Lit
Today's newsletter is written by Sharine Taylor who interviewed Jherane Patmore, the founder of Rebel Women Lit. Taylor is a Toronto-based music and culture writer, producer, filmmaker and Editor-in-Chief of BASHY Magazine. She also believes that pineapples have a rightful place on pizza.
---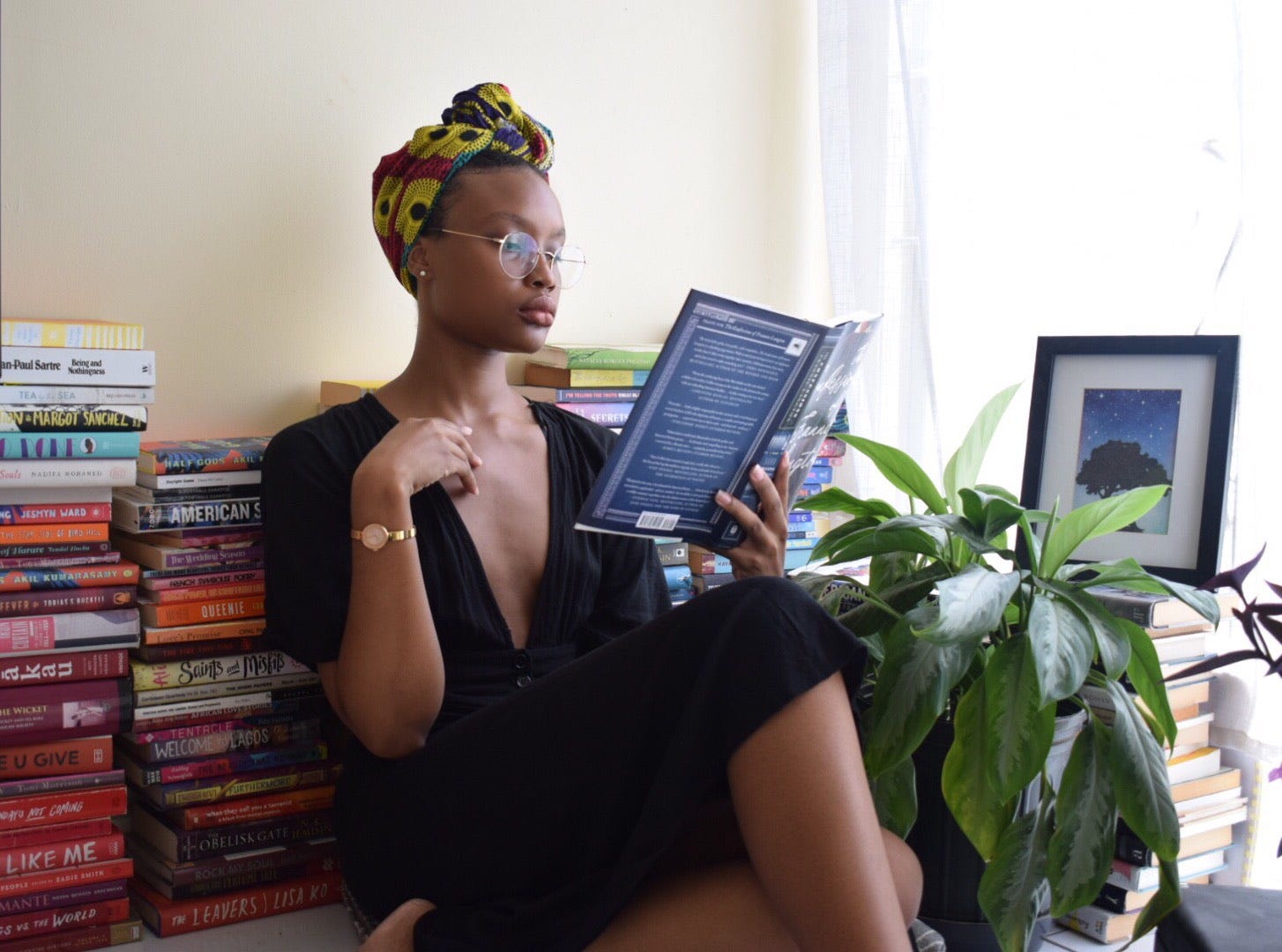 By Sharine Taylor
Typically when people go to Jamaica, they look forward to its white sand beaches, its flavourful culinary offerings or the vibrant culture (all of which, I can confirm are—full bias—great), but when I went a few years ago, I was looking forward to going to a book club. I had been following Rebel Women Lit (RWL) on Instagram months prior and they embodied everything that I wanted in a literary space: inclusivity, operated by Jamaicans, focused on stories of and by Black women and queer folks and a driven by a mission to amplify Caribbean literature and authors.
The book club actually started three years ago as a 23rd birthday gathering for its founder, Jherane Patmore who invited over a small group of friends to read Audre Lorde. By the time they were finished, everyone was asking for the next meet up date. She shares, "It just grew into this space where friends, old and new, could come together, talk about literature and everything else that's happening in the world."  
When I went to Kingston in 2018, that month's selections were essays from Audre Lorde's I Am Your Sister and Yrsa Daley-Ward's Bone. As I made my way to a cute cafe in in Liguanea (Brew'd Awakenings for anyone planning on visiting Jamaica once it's safe to do so), I tried to conceal my excitement, but I was overjoyed. Inhaling the heavenly scent of the cafe's selections of baked goods, it was a welcoming, warm space and great conversation over yummy food ensued afterwards. I craved diverse Black narratives on pages and specifically wanted to see more Afro-Caribbean books, narratives and discussions of literature from that perspective. RWL provided this and more. 
Since its inception, the book club has expanded digitally to include an online book store aimed to make titles accessible for readers in the country, a collection of merch with great selections (I'll admit to a touch of bias here) and a Patreon page with plenty of exclusive content. They've also recently launched Rebel Girls Lit: an extension of RWL for teenage girls.
Most notably, they've created the Like A Real Book Club podcast, primarily made with readers in mind, but has since been a place for authors to find familiar grounds. "At the end of every interview, the author is always saying it's such a delight to talk to hosts that actually understand the culture without explaining the context," mentions Patmore. "You don't have to explain what a barrel is. You don't have to explain 'seh mi dream see sup'm'. There's a great connection that comes from the author to the reader."
I sat down with Jherane to talk about all things Rebel Women Lit, the politics of publishing and the emotive capabilities of Caribbean poetry.
What's been your favorite RWL moment to date?
The Spoken and Seen Online Literary Festival we had when COVID just started. I didn't expect it to be that big and supported. It came from things I wanted to see and don't exist. I was feeling very alone and the only thing that brought me comfort was poetry. I couldn't concentrate on reading novels or books because of the pandemic but poetry, I would just read and feel so warm. I would cry, take a bath and be like, 'Thank you Olive Senior for that moment.' I wanted to be able to share how amazing poetry was for me during that time.
I reached out to a few young poets I really adored and thought other people would appreciate, like Tara Downs, Jovanté Anderson, and a few others in Jamaica, across the Caribbean and that not enough people knew about, inviting them to come on Instagram Live to share their poetry. To be able to connect with familiar and new audiences felt like one big homecoming. It was a warm space even though we were all in our living rooms across the world. 
I'm thinking about your tweet where you mentioned, "Caribbean poetry books are the best history books."
I finished Roger Robinson's A Portable Paradise and didn't realize when I started on June 14th that it was the anniversary of the Grenfell Tower. A lot of his poetry was based on the Caribbean experience of being in the U.K. and it's amazing how much history he's able to put it into two lines. You can see just hundreds of years condensed, analyzed and you feel all of it. I was like, "I don't know how Caribbean poets do it!", but they are able to write history books and it connects with you in so many ways. I think it's really an under-appreciated art form. They're amazing in a way where if you're a historian or involved in academia, you'd be writing a complex 600-page book and a poet just says, 'Here's my 40 pages,' and it's so much more accessible. It's rhythmic and connects to us in the same way I think music connects to us. I see our poetry and our music as very similar there. There's a certain rhythm and flow to it that you just get as a Caribbean person and you feel it in your body. You feel it in your soul. It's a beautiful art form that, to me, brings comfort and at the same time sparks very constructive anger. 
If you could recommend books as an introduction to Caribbean poetry, who and what would be on it?
I have to put Olive Senior's Gardening in the Tropics. It's necessary, there's no doubt about that. Kei Miller's In Nearby Bushes, Pepper Seed by Malika Booker, In This Breadfruit Kingdom edited by Mervyn Morris and Coming Up Hot: Eight New Poets from the Caribbean edited by Kwame Dawes.
You've spoken about the problem of inaccessibility and getting advanced reader copies (ARCs) to the Caribbean. What are the consequences of not having made those concessions and leaving out the entire region when it's time to send those copies out?
I think we have to take a few steps back and understand the system. Before social media and Instagram, a lot of ARCs would be primarily [sent] to journalists or people who write reviews for newspapers or literary magazines. Along came social media—blogging was definitely there before—so a lot of bloggers would have access to ARCs and that would help with the promotion of the book. Along came bookstagrams and a lot of influencer culture got incorporated into the publishing world. It's given to them for free and they're expected to write a review in order to promote the book. Influencer culture is very much linked to how many people are following you. You're [not only asked to] write a review of the book, but make it look pretty, take pictures and then get people to like it. The metrics have changed, the demographics have changed, but it's still the idea that you get a free book. 
Understanding that there are very few Caribbean people who blog about books and who have the audience that a lot of publishers are looking for, it's hard to get books here in Jamaica. Jamaican bookstores aren't necessarily buying a lot of these titles, or if they're buying it, they're buying them late. I talked about In Nearby Bushes earlier. No bookstore has it even though it's been published almost a year now (but now I'm in dialogue with the publisher to let them know Rebel Women Lit has an online bookstore and can sell it). That does not motivate publishers or publicists who want to send books to the Caribbean because, as far as they're concerned, the market is very small, even though the books are written by Caribbean people and if you talk to the authors, they are written for Caribbean people. The business around it is not seeing the return on sending it to the Caribbean. With all that said, you have to also understand that influencer culture shifts towards how white you are. There are a lot of beauty politics in terms of what makes someone an influencer, even in the world of books. 
As far as they're concerned, the market is very small, even though the books are written by Caribbean people and if you talk to the authors, they are written for Caribbean people.
However, I do think when you strip away the metrics of what the publicist or the publisher is looking for in the business, there is an ethical responsibility. It shouldn't be that I'm writing to the New York publishers for Nicole Dennis-Benn's Patsy for months asking, 'Are you going to send us that book that's written about Jamaica?' and you don't, because it feels as if our stories are used to say 'We have a diverse collection, see! #BlackLivesMatter.' You never actually care about who that readership is. A lot of readership tends to be very North American-focused, and tends to be very white—we have to acknowledge that most readers are white women—so they don't see the financial benefits of sending it. 
Personally, I've stopped asking for ARCs. It's exhausting. It's one of those battles that I don't feel I'm ready to take on just yet. I feel bad for the authors because I know that this is something they do desire, but then publicists get lazy and a form of that laziness I've seen a lot is where they rely heavily on influencers to do the work of publicizing the book. They'll ask you to do blog tours, reviews and then I'm just like wait, what are you doing in terms of reach because all I'm seeing about the book is 100% led by bookstagram influencers. There's a lot of free labor involved and it's complicated because a lot of it also runs on the desire to see Caribbean books get in the hands of Caribbean readers. The reviews are always complaining about not being able to understand the language. They'll leave really horrible reviews which will affect how the book does. It's one big cycle of 'wow, the big five publishers really do not care.'
So then what kind of future do you envision for Caribbean lit in general, but also for its regional readership?
The future I imagine is where our literature is more accessible in terms of being able to reach more people. Most of our bookstores that have fiction that aren't on our school syllabi are located in Kingston. They also tend to be dated. Something that I'm trying to do now with our bookstore is ask 'If I'm in extreme rural Jamaica, how could I get access to this book either through the bookstore or through the club's library?' That's something very dear to me and that I really care about because I'm someone who grew up in rural Jamaica and a few years ago, the one bookstore that we had closed. 
I'm someone who grew up in rural Jamaica and a few years ago, the one bookstore that we had closed. 
Beyond accessibility, I'd love for our literary community to recognize that readership should not be limited to the class you're in. A lot of our literary spaces right now mirror our academic spaces, which isn't bad, but I just don't want it to be the only kind of literary space that exists. One of the things I'm really excited about is having in-person meetups again and creating a uniquely Jamaican literary experience and asking what that looks like. I really started to wonder why we haven't figured out what a dancehall version of literature looks like where it's not just the content, but also the physical space and the culture. Why do our poetry events have to be quiet with someone at the front, they talk and then everyone claps after? It just feels like we're mirroring another version of what exists internationally and I'm curious to, especially after this pandemic, explore what a uniquely Jamaican literary experience looks like. That's the future I want and that's the future I'm hoping I can contribute to.
This month, Rebel Women Lit will be reading Come Let Us Sing Anyway by Leone Ross, but you can stay in the loop with all things RWL by subscribing to their newsletter. You can support RWL and their community library by becoming a member on Patreon, making a one-time contribution, or assisting their Mary's Child Home for Teen Moms project that makes literature accessible     .  
This interview has been condensed and edited for clarity.
---
This is a contribution to our funded series by black writers!
REMINDER: If you are a black writer who reads this newsletter and would like to write anything about women's literature (does not have to be about black writers; does not have to be about *this moment*), email me. I pay better rates than most magazines at this point and would love to promote your work!
ALSO: if you are a reader who wants to support these funded stories by black writers financially, just let me know! I have a fund!