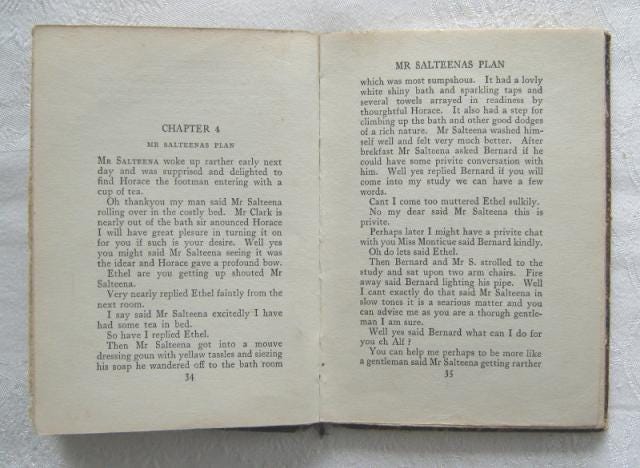 Listen, I was a precocious child, but I had nothing on Margaret "Daisy" Mary Julia Ashford. Sure, I wanted to show off how many things I knew, and spent hours writing in my room alone, but I was playing in a different league than Daisy. I wrote only "books" at our elementary school's "publishing house" that were printed on colorful construction paper and laminated to keep safe, and that I pray to god never see the light of true literary criticism. But what Daisy Ashford wrote at 9 years old became a bestseller.
As an adult, Daisy Ashford rediscovered her manuscript. In 1919, she published it.
The book was called The Young Visiters: Or, Mr. Salteena's Plan. Had the title remained true to the manuscript (as the rest of the book did) it should have been titled "The Young Viseters," as its author was quite too young to have mastered spelling and grammar. The book tells the story of a "elderly man of 42" who invites a 17-year-old name Ethel to stay with him. The visit Alfred's friend and Ethel finds a love-interest. On the whole, the book is a kind of duplication of the ironic society novel popular in the early 20th century and a laughable high-romance. (I really recommend this Alice Bolin piece over at The Paris Review for an unmatchable literary dissection of Ashford's work. )
The New York Times said her book was ""quite the most humorous thing that ever found its way into print." It was reprinted 18 times in its first year alone. It was immediately turned into a play.
It's not really that surprising that Ashford's book took off. It came out in the middle of a war and was light hearted and funny. It was written by a child, Ashford said: funny by accident, insightful by accident, good by accident. All of its terrible grammar and spelling remained in tact. Here's an excerpt:
Be a man said Ethel in a gentle whisper and I shall always think of you in a warm manner.

Well half a loaf is better than no bread responded Mr Salteena in a gloomy voice and just then the earl reappeard with a very brisk lady in a tight silk dress whose name was called Lady Gay Finchling and her husband was a General but had been dead a few years. So this is Miss Monticue she began in a rarther high voice. Oh yes said Ethel and Mr Salteena wiped the foaming dew from his forehead. Little did Lady [Pg 86]Gay Finchling guess she had just disturbed a proposal of marrage.

The Earl chimed into the conversation now and again and Lady Gay Finchling told several rarther witty stories to enliven the party. Then Bernard Clark came up and said they had better be going.
The chapter after this one is titled "The Proposale," but I will leave you to read that wonder on your own. My favorite fun fact about this book is that it was used as a comparison by the critic Edmund Wilson to drag F. Scott Fitzgerald's This Side of Paradise.
As a society, we love juvenilia. We love to make poems by children go viral. There's a kind of joyful reverence given to children that are good at any kind of art. There's also something genuine about children's writing that as adults many people lose. We begin to write with more awareness of how our words will be perceived. What we gain in understanding of plot and character development also diminishes our ability to be creative.
I've been thinking a lot lately in this slow, desperately hot summer about when people stop writing and reading. Most children read. They are encouraged to. Many children also write. But as we grow up that pursuit diminishes. This is not exclusive to writing, of course. Adults also don't color or paint or imagine or play. But with writing there is something else lurking, I think. Most adults still write in order to survive. We send e-mails and g-chats and google docs with reports. We have to write to communicate. Think of the hundreds of thousands of words we write every year in text messages.
It's not writing that goes by the wayside in adulthood… it's creativity; It's bravery. We become, as adults, more fearful. I've noticed this recently in my own work. This summer I've been trying to be more experimental in my personal work: to try and break out of some of the crutches and habits I've learned to lean on. And I'm NOT GOOD AT IT. I don't want to be brave. I want to be read and to be loved and to have my work be solid instead of being great.
I am a well-known Kerouac hater, but in reading The Young Visitors I've been reminded that maybe unedited stream-of-consciousness work (or at least unedited drafting) can be useful in that it gets you closer to honesty and further from catering to some unknowable, unpredictable audience.
Anyway, I'm going to write more about this on Friday because I'm keeping personal revelations for subscribers, but there's something worth considering in Ashford's honesty, in her childish observation.
She never really wrote again. As an adult, either she or her life got in her way and the only things she ever published were juvenilia. Near the end of her life she was working on an autobiography. But she burned it.