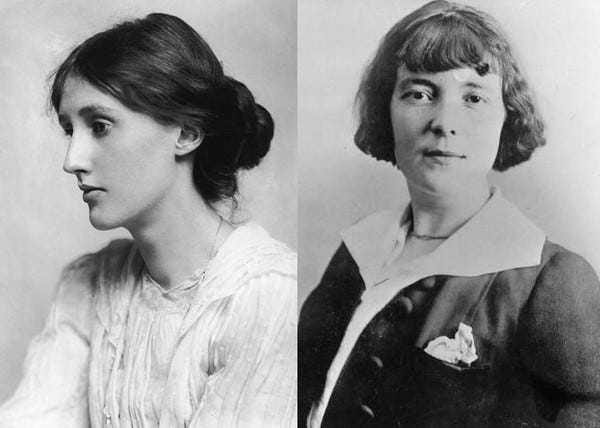 This is an absurd comparison, so thank you for humoring me! We are just having fun out here on a Friday.
There are always dramas important to a few for a long time that bubble over into the public conscious so rapidly that the majority of people have no idea they are happening, and no background for their hysteria. This week's drama was the first person essay written by a young 23 year old named Natalie Beach about her relationship with the Instagram Influencer and Creativity promoter Caroline Calloway. I would link you to a well-written piece that has done some fact-checking on these ladies' frankly insane rise in the public consciousness, but no one has done one!
What's important, and interesting, and relevant for us here at this dumb newsletter, is that their relationship is one signified most clearly by jealousy. In Beach's essay we learn how she envied Caroline, for her money and attention and beauty, and how that drove her to do work she didn't necessarily want to do, and created a rift between them. It is easy for me to believe that Caroline also probably envied Natalie —who didn't seem to have the same struggles with addiction and who Caroline continues to call on her instagram a beautiful writer.
None of this drama is important but we, as people, love drama that does not involve us. What we love more is a drama where the stakes are high for the individuals involved but have absolutely no affect on us. The devastation of Caroline and Natalie's friendship is one that must be deeply painful for both of them, but feels like only consumable drama to us.
Anyway all of this reminded me of one of my favorite literary friendships: Virginia Woolf and Katherine Mansfield.
When Woolf and Mansfield met in 1916, Mansfield was the more famous, more established one. Virginia Woolf was a wealthy girl. She grew up in her father's study reading. She remembered George Eliot and Henry James visiting when she was a child. She had the money to retreat from society, to find her room of one's own, to be a bit elitist. She called Mansfield "common" in her diaries after their first meeting. Mansfield, though, was more successful. She was a New Zealand born. She was bohemian. She was known to have had sexual relationships with women and men. And Woolf fell for her, deeply, quickly, meanly.
Woolf had only one novel by then, and she and her husband convinced Mansfield to print one of her stories (Prelude) through a newly founded publishing imprint they had founded. Woolf fawned over the manuscript. She herself typeset its pages. She laid all the letters side by side and forced them right-side-up onto the page. She glued the pages to the blue bindings. She built Mansfield's book with her own hands.
When the story came out, Woolf defended it constantly, as anyone would a book they had painstakingly placed every letter for. But their relationship, when you read about it now, feels desperately like one of an early relationship where one member is deeply in love with the other, and the other is also involved. Woolf carried flowers to Mansfield in London. She visited her when she was sick. She loved her. This is the part that I feel like is really missing from the conversations about women's friendships (both Caroline & Natalie's and Virginia & Katherine's).
You can fall in love in a friendship, deeply, passionately, frustratingly. And you can not fall in love at all. Friendships mean different things for people at different times. Woolf, the less accomplished, loved Mansfield, idolized her, considered them close. But what did Mansfield think? We aren't sure.
What we know is that when Mansfield left London for her health in 1919 to the Italian Rivera, she did not send Woolf a single letter. They were estranged, and when Mansfield reviewed Woolf's second novel, she did so with a dagger. She said Woolf's Night and Day (which to Mansfield's credit is certainly not Woolf's best) was made "us feel old and chill," and that novelists must find "new expressions new moulds for our new thoughts & feelings." Woolf, she felt, had not done this.
"Pray consider how rare it is to find some one with the same passion for writing that you have, who desires to be scrupulously truthful with you – and to give you the freedom of the city without any reserves at all," Mansfield had written to Woolf once, before her move. But here was her real honesty, her real criticism, her dangerous truths about Woolf's work.
Woolf read the review. She was, of course, devastated by it.
Six months after the review came out, Woolf heard that Mansfield had returned to England and (like any jilted lover) arrived at her house and asked why. Why the estrangement? Why the criticism? Why the fallout? Why the silence?
The following week Mansfield had lunch with Woolf and explained that her frustration was because Woolf had ignored the war, the major event of anyone in Europe's life. And Woolf was relieved. After that she wrote Jacob's Room. And after that Mrs. Dalloway.
Their relationship lasted only six years. Mansfield died of tuberculosis in 1923. After her death, Woolf wrote: "I was jealous of her writing - the only writing I have ever been jealous of."
There isn't a ton of scholarship or archival data about their friendship, but I imagine that the pain is the same as what we are seeing online this week: the play-out of two fairly wealthy white women struggling with money and jealousy and unadmitted heart-break in the public eye. Woolf called Mansfield her, "bitter opponent and beloved friend — unrivaled by any other." When I read Caroline Calloway's Instagram captions this week, I couldn't help but think of the obsession that some female friendships take where jealousy dissolves quickly into obsession which cosplays as love sometimes for long enough to become real.
It is painful to be criticized by someone you love, but what's more fascinating to me is that a rivalry in women's relationships and in women's writing is often not as cut-and-dry as a pure hatred. There is intimacy woven in with distrust, desperation linked with frustration, obsession married to envy. A former friendship between women is never as clean cut as a purely romantic breakup. There is too much leftover, too much unresolved, too much and far, far too little.
I recommend: The audiobook of To the Lighthouse read by Nicole Kidman, Mrs. Dalloway forever, Prelude, and The Garden Party.
If you want more, there's a whole book you can read about Mansfield and Woolf's friendship here.
Happy Friday!!