What power does a story have, really?
Maybe we don't have as much power as we think we have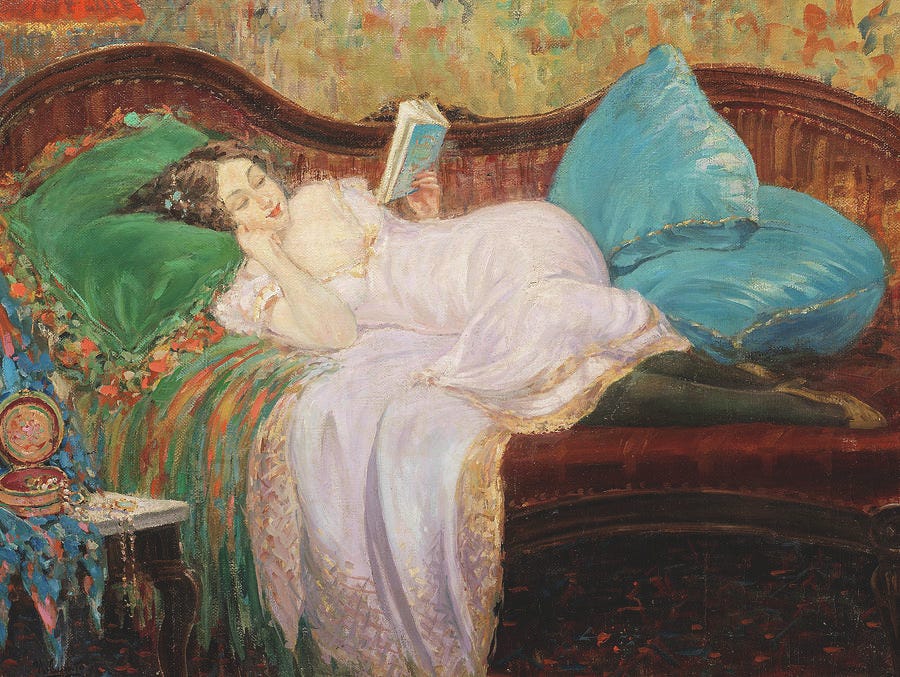 My therapist left me, specifically. She moved to New York in the middle of a pandemic after our five years together. Now I am adrift at sea. I have tried to find a new therapist but they are all booked solid for a hundred years. The two I have had video chat calls with have not fit. They have not laughed at my jokes like she did. They don't know anything about me. It's frustrating because I want a new therapist, but I can't find one. It's frustrating to need a therapist at all.
No. That isn't right. It isn't true. Let me try again.
My therapist moved to New York and tried to help me find a new therapist. She gave me references and helped me process why it was hard to like them and made me a little one-sheet about what I needed to work on and some questions to work through in my diaries in the meantime. I haven't had the same kind of instant connection with a new therapist that I had with her, but I've only tried two. It took me four tries to find my last therapist five and a half years ago. The problem is that finding a therapist makes me feel bad.
No. Still not right.
I haven't found a new therapist because I don't want to. I liked my old therapist and I'm grumpy and pouting that she left. I'm grieving the way one might a breakup: with obstinance and close-mindedness. No one is good enough. No one is her. Sure, it does make me feel bad to find a therapist because it sucks to need a therapist and to have a mental illness in general. But that isn't why I haven't found one. I haven't found one because it is medium level hard and I don't want to do it, so I just haven't. My old therapist said this was okay for now, but I feel guilty about not having found one yet so I'm making excuses.
Still no. But closer.
**************
I spent most of last night and this morning thinking about the self lie because of a wonderful piece I read yesterday in The Sewanee Review. "I don't stick with the first version of my own life story," Melissa Febos wrote in her recent essay "Mind Fuck: Writing Better Sex."
Febos's piece is about how in order to write her memoir Whip Smart, she had to do the mental work to get to the point where she could process her own life and experiences deeply. Instead of just describing her actions, she had to learn to see herself as she was in that moment without the narrative she'd imposed on it. The piece isn't actually about how to write good sex scenes (though it does have good advice for that). The piece is about how the reason we write bad sex scenes is that all of the garbage we've been taught by the patriarchy, and white supremacy, and the church, and every other structure of power, is most evidently and blatantly imposed on how we see and talk about sex. It is the topic we write about where it becomes clear exactly how aware the author (or character in fiction) is of herself.
Writers love to talk about writing. We love it. We love to talk about how much we use m dashes and what makes a good lede. We love to workshop a plot. Sometimes, we get tired of talking about writing the way one might get sick of eating a decadent chocolate cake every day for a week, but you don't become a writer without caring a least a little about how language works. Febos's piece is brilliant because it challenges writers to go past just the easy tricks of making writing better. Good writing, isn't about following the right rules and avoiding the right things, it's about truth. "I believe it's possible to retrain the mind to write more creatively and truthfully and smartly about sex, just as it was possible for me to train my writing out of the bad habits of mixed metaphors, passive voice, superfluous modifiers, and a total lack of narrative tension," she writes.
Here's a paragraph from Febos' piece: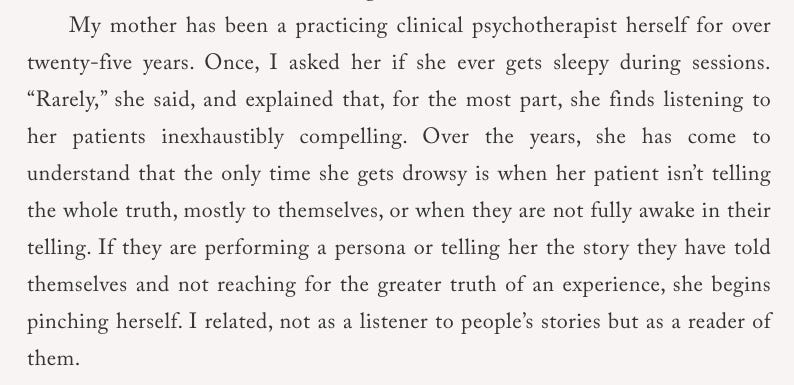 We can feel when someone is lying because its boring. Not necessarily lying about facts or details, but lying about what a story really means. We can tell when they're lying to themselves. We know it when we begin to scan a page, or put a book down for a long time. It's a failure on the part of the writer to think about the reader.
Recently, I've been thinking a lot about reading. I'm in the stage of editing my novel that is arduous and tedious and so much less about me than any writing I have ever done. My entire job right now is to look at each phrase, each comma, each of the 400 times I've used the word "just", and decide if I really need it, if it actually belongs. What does "need" mean, though, in this context? I wrote the book with everything I thought it needed. Then I revised it again and again to be exactly what I wanted it to be. But that's not the phase I'm in any more. The phase I've entered is one about thinking about the reader. What does this phrase do for her? Does it work the way I want it to? Can it be misread? The goal is to look at the book not the way I do, or my friends who write would, but to look at it the way someone who doesn't write would, to make damn sure that everything between those eventual covers serves the story. A florid sentence I love only stays if it will do something for the reader. Beauty can do something, but not always.
It would be easy to conflate this with commercialism, but it's not really. You don't think about the reader to make my book sell better. You think about a reader to make a book read better. The irony is that you can't really control either, you can only try.
**************
If my (now former) therapist taught me anything, it's that our brains lie to us all the time. We lie to ourselves constantly. Sometimes those narratives are built out of thin air and need to be rejected wholesale. But what's scarier is that most of those narratives have some truth at the base of them, but have been distorted so many times we can't see it anymore. Not only, then, can we live inside a lie, but we can miss the actual truth we need to confront.
I should know better than to accept a narrative my brain tells me without holding it up to the sun and seeing which colors of light it blocks. But it's so much easier, so much more comfortable, to look at the wall and see green and believe that is truth, than it is to turn around and see the prism and make absolutely sure there isn't something stuck in there.
**************
Reading Febos reminded me how personal a reading experience is. There's a refrain amongst people who work in books whenever something goes terribly wrong about how important books are. Books will save us. Books can change the world. Books will teach us about worlds outside our own. Books will create empathy, create good voters, create good citizens. Books can do it all!
Maybe sometimes, but not always. We all bring to each book we read our own backstory, our own trials and tribulations, our own biases. I recently read a book called Godshot by Chelsea Bieker. It is a book about a Christian cult in a Southern California town desperate for rain. In premise, it is a book I should love, but I didn't. Godshot is a tight, propulsive little book. Several of my friends whose taste I trust loved it. I tried to scan back through it to understand why. Why was my experience with this so different from theirs? Why did the parts that were so emotionally effecting for them upset me in a different way? It took a few weeks before I realized that my friends who liked it didn't grow up Evangelical. They were not bringing the assumptions to the page that I was. They did not have the hangups I have: processed or not. They read whole plot lines completely differently than I did.
This isn't to drag Godshot, which is a good read, as much as it is to say that no book can overcome the unsolved past of a person. No amount of argument or empathy can change someone's mind completely. If the curtain hasn't been lifted, a Calvinist says, you cannot see God. We can make something entertaining and aesthetically pleasing, but we can't make any piece of art have meaning for an individual. That reaction is individual. It's unattainable. But we want it right? We all want to read a book and feel like our heart has been ripped from our chest, to stand in front of a painting and feel the empty space between our ribs. How does that happen? How do you make it?
**************
The last time I went to my therapists office, I emailed her before to see if she would still be there. It was early March, rainy, miserable, looming. We knew what was coming, but we didn't want to face it. I sat in the comfortable chair and took my tea and looked at the salt lamp. Her face was rosy. I didn't yet know how it feels to watch yourself cry on a zoom camera, but I did know then that she was leaving. She told me early.
I started seeing her when I was 24 years old. I thought I was there to process a layoff and a career that was tearing me to shreds, but I needed to be there for so many reasons I hadn't or refused to see. I've been trying to write about what it means to lose this relationship: such a clean break, such a strange loss, it is to have someone know every thing about you —all of your failures and deepest fears— even more than you know about yourself at times, and to know absolutely nothing about them. But I haven't been able to write it.
We can write about the things we haven't dealt with, but not well.
Writing is a form of processing. Febos says this in her piece: "Whereas writing was once an exercise in transcription, it has become an exercise in transformation."
Maybe we write over and over again, redrafting and restructuring and reimagining, in order to find the truth within ourselves that we don't want to confront, or at least can't confront on the first try. But we edit to make sure that truth is there, to make sure that the reader gets it, to try and see if we can maybe —if we're lucky— show the processing we've done. The hope, I guess, is that the writing helps us find truth and that maybe, in the most optimistic world, our processing can help someone else along too.
Painting is A Woman Reading by Ulisse Caputo