You have to love it first
on writing with energy and passion
Subscriptions to this newsletter are on sale until the end of May! Your subscriptions allow me to continue to write here and I am very grateful for them!
---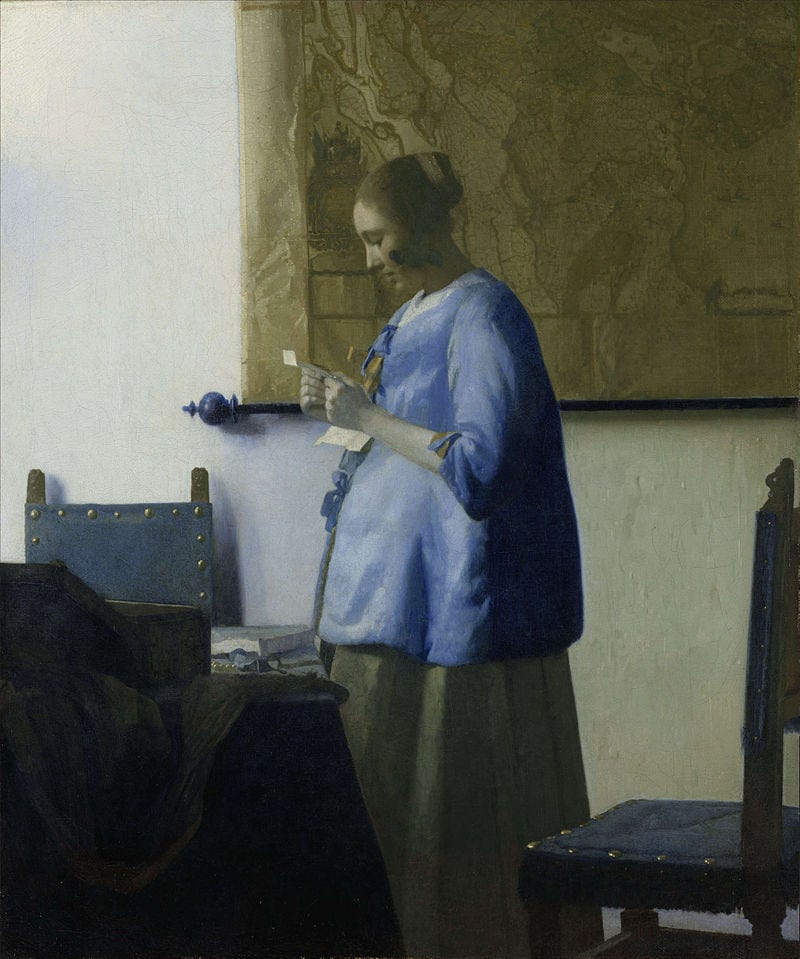 Last night I went for a nice long walk and talked to a good friend on the phone. We hadn't caught up since before this whole thing started so our conversation was quick and energetic. Even when we talked about difficult things, the tone was good, excited, happy. We wanted to talk to each other. I had a hard day yesterday and it was exactly what I needed. When we hopped off the phone, though, I was still a ways from home and I wasn't in the mood to listen to any of my podcasts, so I strolled in the dark, under leaf-shadowed street lights and thought about the new project I'm working on. And by working on I mean mainly thinking about.
My friend Fran has a good saying: "texting is writing." While I was walking I was writing too.
It seems silly but so much of writing is just using your brain as a back-burner. While you do chores or respond to emails or walk your dog home in the cool May allergy-ridden air, your project simmers in the background so that everything around you becomes part of it. All writing is like this: fiction, non, I assume poetry. Thinking is more of writing than the actual writing is. By the time I sit down to write something, I pretty much know the bones of what I need to do, which isn't true for everyone, but definitely makes it seem like I'm a quick writer. I sit down and three hours later I have some pages. But to get to that point, I've spent days turning over a single phrase, or listening to a few songs on repeat or thinking about the people my story focuses on in the situations I'm in, trying to imagine how they would respond and react.
I was reading a very nice book the past couple of days that I'm going to write more about it on Friday, but while I was reading it, I was thinking about how (even though I really loved the book) there was no way I could have written it. I'm simply not that interested in the dynamics of motherhood or women's struggle as a kind of stereotypical wife to have invested in the story she invested in. And what you are doing when you read any work of any quality is stepping into a world that the writer has spent weeks or months or years trying to understand. You are sitting in the result of their years of tinkering and dreaming and trying to fathom how people work (even fake ones). My novel does not come out for another year. I had some pages of it in late 2017, but I've had lines from it for a decade probably rambling around in my brain without my permission. Every book you write is a book you've always been writing because simply by the amount of investment required, it has to be the kind of thing that you can be interested in for years and years and years.
It is absolutely obvious when someone hasn't done this. I open books all the time to their first page, read two paragraphs and put them back because it is clear to me that the writer wanted a book more than they wanted to write this book. There is nothing noble about writing. It is a job. But it is a job that to be good at, you have to invest pieces of yourself in the process. A book that "will sell" is a great book to write if it is also the book that you want to write. As a writer you have to earn the emotions you're asking your reader to have, and part of that earning comes from your own personal work and imagining. It's not the kind of thing you can rush and end up with something good. Every book that was written because the writer wanted to write a book and not because they got stuck on an idea that spun in their head until it became a cotton candy story made of loose thoughts and obsessions and a million small ideas, reads like a book that wasn't loved, or at least wasn't obsessed over.
I'm about to quit a book I've been reading. As we all know, quitting books is good for you. It's not that the book I'm about to quit is bad. The book is actually very interesting conceptually. But something about it feels like the author was stretching herself outside of what she really wanted to write and into something that she thought would interest other people.
Part of my job as a reporter is to wind people up. Whenever I'm at a party or one of Trey's work events, I do this by second nature. You can see, especially in people you don't know very well, a glimmer appear beneath their appearance when you find a topic they are interested in. Why? I ask. How does this work? And before you know it some person is rambling to me about concrete aggregate or government inefficiency or dry aged steak. "I'm so sorry," the person inevitably says when they reach the most minute, most intricate part of what they are talking about and have to walk me back five steps to help me understand, "this must be so boring for you." But it never is. Lots of things are boring to me, but if you can get someone to talk about something they actually give a shit about, something they want to talk to you about, it becomes beautiful. I once listened to a man explain to me the entire process for rebuilding some old truck! I don't care about this, but he cared about it so much that his joy, his interest was infectious. I asked maybe four questions and he unlocked in front of me. He wanted to share it with me because he couldn't keep it to himself. Ideally, that's how a good story should feel. Like it's being given to you from a place of deep obsession and joy, even if topically it is miserable and awful.
On the phone with my friend we weren't talking about writing. But this kind of discovery of passion and choosing of it is true for anything really: getting a dog, choosing a new city to live, finding a partner, picking a career. Everything requires us to sacrifice something. We were talking a bit about how you can't control your dreams. How sometimes you want something so much that you accidentally bend your life into a shape you don't want to get it. It's hard to realize how much you might give up to get something you want. We can't have it all, we know, but which parts of it all are we willing to give up to have the other parts, which parts are worth most?
---
This is fairly disjointed and not really coming to a natural point like I had hoped it would, but sometimes that happens. On Friday, I'm going to write about "rage." I hope everyone had a good long weekend. Please let me know if you read anything great!
---
Painting is "Woman in Blue Reading a Letter" by Johannes Vermeer