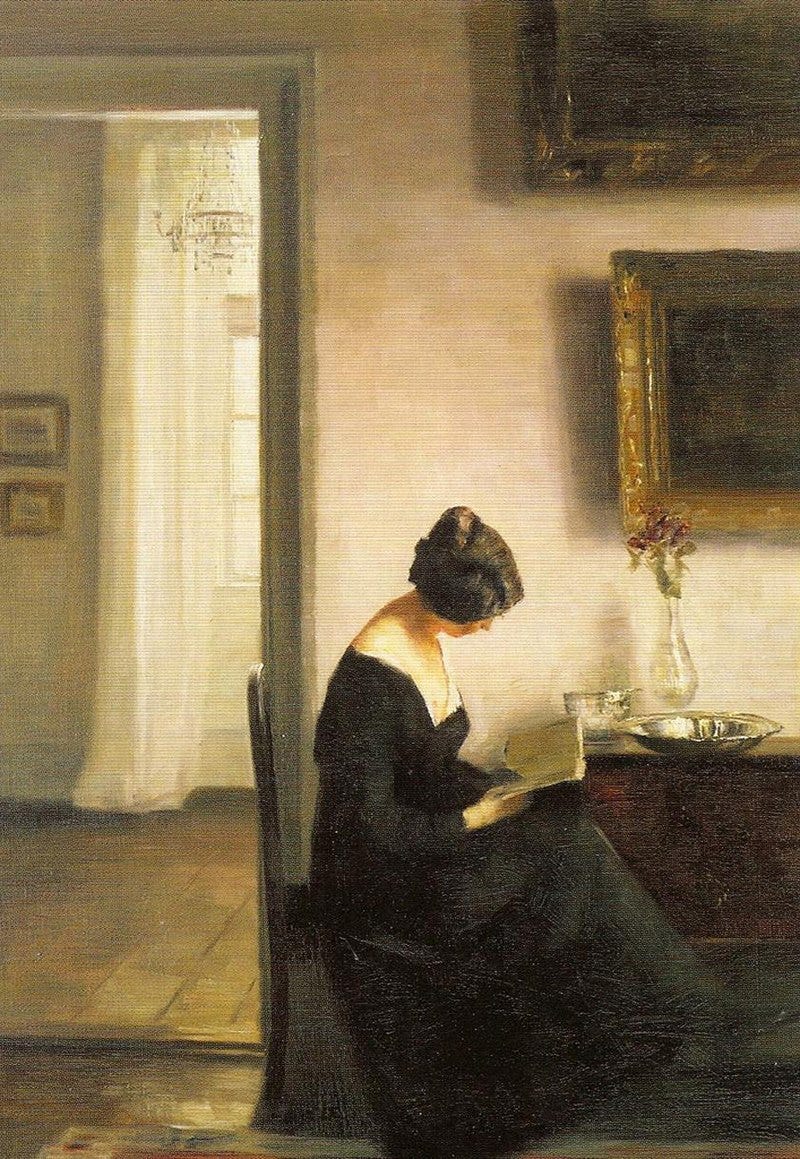 In college, I failed to decide on a major for four full years. I entered the university enrolled in an honor's program that technically counted as a major because it had so many required courses and because the man who invented it eventually became president of the university and had a ton of power to canonize his idea. Most people picked up a second major, or a third. It is exceedingly stupid, I realize now, to have a diploma that reads "Plan II," a phrase that not only means absolutely nothing to anyone outside the state of Texas but also is just a lazy name.
But at the time, I didn't declare another major because I didn't want to. Everyone else picked up business or psychology or engineering or history. Everyone else understood on some fundamental level that having a degree people could understand was worth something. Now, I often lie. At a party, I'll say I was a history major, or an American Studies major, or a Women's and Gender Studies major, or an English literature major. All of which are kind of true. The week before I graduated, my advisor told me I was one 3-hour credit away from picking up all four majors.
Anyway, what this freedom meant was that I could take whatever classes I wanted, and because the University of Texas is a massive institution with 50,000 students, there were plenty to choose from. I took a couple of classes that, even though the professors weren't my favorites, had syllabi to die for. One was a course where we read the entire works of Toni Morrison. The other was a course where we read in tandem the entire works of Don Dellilo and Louise Erdrich.
There is no simple, standard word — like discography for musicians — for every book an author published. There is oeuvre, which is simply French for "work." And there is corpus which means body (usually dead).
One of my goals for this year is to read the entire works of a single author. I'm going to write more on Friday about the author I've chosen and why, but I decided to make this one of my many goals because I loved doing it in college. I remember in the Morrison class, how much my professor loved Morrison, how many details she knew about her life, but really what I remember is the parallels. After you've read four or five books by the same writer, you start to see not only where their natural talent is (which you can usually tell by book one) but what they had to learn to do, where they improved. There's a reason Beloved was Toni Morrison's fifth book: she had to learn how to write it.
When we read an entire oeuvre, we learn to read an author how they want to be read. This is particularly important, in my opinion, for writers who are women or people of color. It is often true that when a man writes a book that receives high-acclaim, it is automatically assumed that every book he has ever or will ever write is also worthy of the public's time and energy. This is not true for other writers. Women and people of color may have a single book be critically acclaimed and the rest of their works remain out of print, or unloved, or ignored entirely. This is not only a disservice to the public, it's a disservice to the book that we claim to love.
I recently read a book of essays by Virginia Woolf called Granite & Rainbow. I bought a copy of it after seeing someone post a photo of its cover on Instagram and immediately being filled with fury. I had a great Woolf professor in college. I thought I had read all of her works. Sure, this was a book of essays, and sure it wasn't her most popular, and sure it was compiled after her death. But it was still a Woolf book that I had NEVER HEARD OF. And she is one of the most highly prestigious women writers we've anointed.
I often think about how the Van Gogh museum in Amsterdam is structured. Van Gogh is an accessible painter to most people. His work is not scary or difficult, but the curators of that museum were thoughtful when they designed it about how to make a museum about a single man fully revealing of who he was. What they realized was that chronology matters, that history matters. So they built the museum so that the floor below the earliest Van Gogh's are the artists who inspired him, who were working immediately before him, and the floor above the latest Van Gogh's are works by other artists that were inspired and produced after his death. Sandwiched between his influences and those he influenced, you begin to see how Van Gogh's evolution was special. Because you can see that he wasn't alone, that his work was not created in a vacuum, you can also see that what he did was truly remarkable. You can appreciate not only his greatest hits, but the hay bales and still lifes and self portraits that set him up to make those.
Obviously, it is more time consuming to read every book written by an author than it is to look at 300 paintings, but the effect is the same. When we read every book of an author's corpus (their body) we begin to understand what broadly they were trying to say, and how they tried to say it.
I'm not sure if Toni Morrison will publish another book posthumously, but I've been thinking a lot lately about the bookends of the novels she published. A career that started with The Bluest Eye's "Quiet as it's kept, there were no marigolds in the fall of 1941," and capped off with God Help the Child's final eponymous line "Good luck, and God help the child." What a beautiful compartment for her stories to live in, what a gorgeous reminder that Morrison's interest was always in inherited trauma and women's struggle, and racism in America.
Sometimes, it's easy to read an entire oeuvre, if the writer was not so prolific. Marilynne Robinson's entire body of work so far is only four books (with a fifth coming out this fall). But if you're looking for something to read this year, consider this: there is probably a book you love, that you cherish, that you recommend to others when they ask what to read next, that exists within a body of work you may know only pieces of. It's something I've realized about my own endorsements and that I'm working to correct. Join me?
painting is Woman Reading in an Interior by Carl Holsøe